First dedicated women's football analytics platform set to transform the sport
Media centre
24 March 2021
TransferLab, the first dedicated analytics platform for women's football, has been launched today.  The launch of the platform comes hot on the heels of the Women's Super League's £8m per annum TV deal with Sky and the BBC highlighting the surge in popularity and interest in the female sport. 
As part of the launch, TransferLab has revealed a "Best XI" squad based on performances in the WSL this season so far, and also five top young players to watch out for. 
TransferLab is a product developed in partnership between leading football consultancy Analytics FC and business analysts LCP in response to the rapid growth of the women's game over the last few years. The platform aggregates over 5,000 players in 20 leagues globally including England (both Women's Super League and Championship), USA, Spain, Germany, Australia, Iceland, Denmark, France, Mexico, Norway, Russia, Sweden, Belarus, Brazil, Finland, Italy, New Zealand, Rep. Ireland and Ukraine.  
TransferLab uses an algorithm that tracks each in-game event and ascribes a value to it. Taking the aggregates of these values, it rates players on overall quality and allows comparison and player rankings, giving each player a rating of up to a maximum of 100 points for any positional profile. 
Faye Carruthers, Host of talkSPORT's Women's Football Weekly Show and Sky Sports reporter, commented:
"In recent years we've seen a huge surge in the popularity of Women's football and its recognition as a sport in its own right.
"With more at stake, football teams need to be able to make more informed decisions about which players to sign. It's fantastic that with TransferLab, women's football clubs now have the ability to look at players' key stats and performance metrics across a wide range of leagues worldwide. Following on from the landmark Barclays FAWSL television deal earlier this week, it's an exciting development that can really support the growth of the game."

Bart Huby, Head of Football Analytics at LCP: 
"Data is becoming a new and powerful currency and for sport it has the power to transform scouting decisions. With analytics at their fingertips, football clubs can now make decisions based on entirely bespoke sets of attributes which match the type of player a club is searching for and gain predictions of potential future performance levels. TransferLab will be able to open up the increasing breadth and depth of talent in women's football across the globe."  
 
Jeremy Steele, CEO of Analytics FC:
"TransferLab's algorithm breaks player performance down in such a way that CEO's, sporting directors, scouts and coaches can understand how much a player's actions have contributed to success game-by-game. Alongside the ability to apply custom metric profiles, compare players and project how a player's quality will change over their career, we're confident this platform will be a huge game changer for women's football." 
 
Prof Sue Bridgewater, Director of the Centre for Sports Business at Liverpool University and Board member of Women in Football:
"We all know the growing importance of data in sport and it's great that women's football is being recognised with the launch of this dedicated platform. There is limited data on the women's game and this will go a long way to support scouting and how football clubs make their recruitment decisions. Data plays an important role in further developing the women's game and, even more so, as the financial and business stakes become higher." 
WSL Best XI 
TransferLab has picked out a Best XI in the WSL, taking the highest-ranking players based on their performances in the current 2020/21 season. In a 4-1-4-1 formation the team includes 7 different nationalities drawn from the top 6 clubs in the current WSL table, demonstrating the breadth and strength of the league. They are: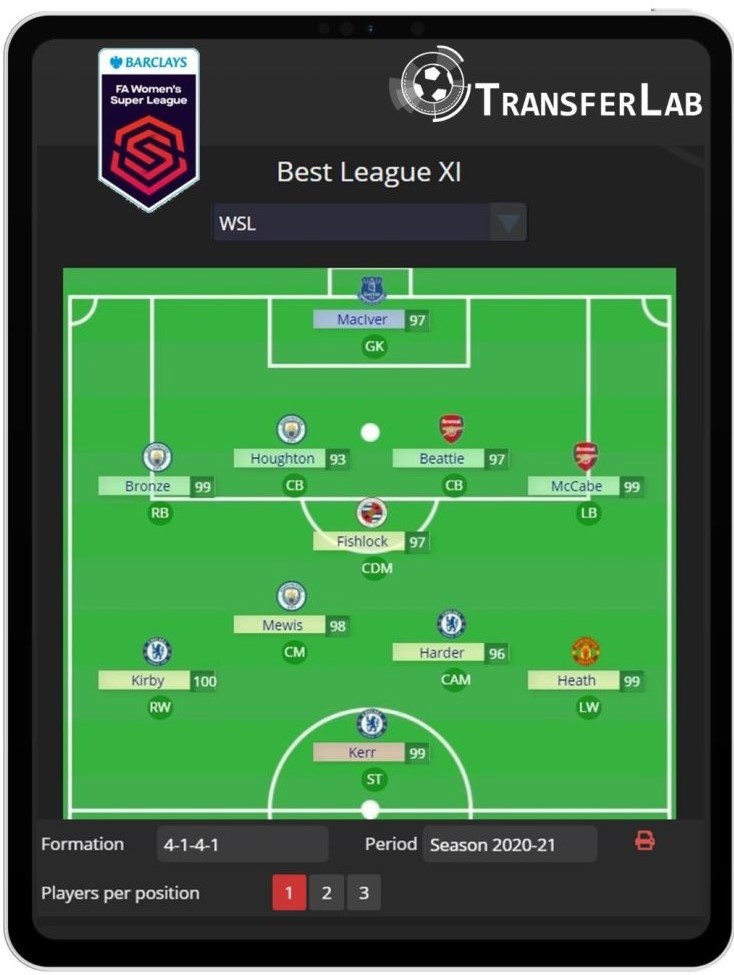 Sandy MacIver of Everton and England in goal
Lucy Bronze and Steph Houghton, both of Man City and England in defence
Jennifer Beattie of Arsenal and Scotland at centre back
Katie McCabe of Arsenal and Ireland at left back
Jess Fishlock of Reading and Wales at the base of midfield
Sam Mewis of Manchester City and the USA in central midfield 
Fran Kirby of Chelsea and England and Tobin Heath of Man Utd and the USA on the wings
Pernille Harder from Denmark and Sam Kerr from Australia, both of Chelsea, up front 

Five young players to watch 
TransferLab has also highlighted 5 exciting young players, all aged 20 or under, to watch out for in the WSL: 
Lauren Hemp , 20, Manchester City, Left-Winger (TransferLab rating: 100 in the All-Round Winger profile): Already recognised as a huge talent in the WSL, Hemp was the PFA Women's Young Player of the Year in 2018 and 2020. TransferLab gives her a maximum 100 score in her role marauding the left side of the field up front for title chasers Manchester City. 
Asmita Ale, 19, Aston Villa, Right-Back (TransferLab score: 97 in the Defensive Full-Back profile), Ale has been at Aston Villa since the age of 8 and has been a regular first-team player for the last two seasons.  Already possessing awesome defensive metrics on TransferLab (tackles, interceptions, shots-blocked and 1v1 defending), she can become an even stronger all-round player by developing further her ball-playing skills. 
Paige Bailey-Gayle, 19, Leicester City, Right Winger (TransferLab score: 94 in the All-Round Winger profile) Bailey-Gayle has been an outstanding performer during Leicester's Championship campaign so far. Excelling at both dribbling and passing, Bailey-Gayle is a winger who TransferLab shows as having very few weaknesses.  She is likely to continue to be a key part of the Leicester City squad if they are promoted to the WSL this year, as looks increasingly likely to be the case. 
Ebony Salmon, 20, Bristol City, Striker (TransferLab score: 93 in the Goalscorer Striker profile) Salmon has been a shining light in a difficult season for Bristol City, who have struggled near the foot of the table. Her 6 goals have been instrumental in keeping them in contention to avoid the drop.  TransferLab metrics show her as deadly in the box - both in finding goal-scoring opportunities and in finishing them off. Improving her support play further could make her the complete striker.  
Maya Le Tissier, 18, Brighton & Hove Albion, Right-Back (TransferLab score: 91 in the Defensive Full-Back profile) Le Tissier has imposed herself as a first-team regular at Brighton since making her debut at the age of 16 in 2018. TransferLab metrics show that Le Tissier's anticipation is very effective, for a young player: she particularly impresses at interceptions and blocking shots – which makes her very strong in a defensive role. Improvements to Le Tissier's passing and crossing would make her more effective at supporting the team in attacking phases of play.